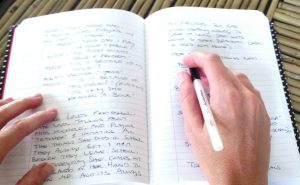 My first surgery for breast cancer was a lumpectomy but ten days later I had to go back for a mastectomy.  I subsequently spoke to the surgeon and asked him why he just didn't go ahead and do the mastectomy during the first operation.  He told me it was because I needed to be informed.  He also said that the scheduled operating room time was a factor.  Waiting for the second surgery was hard.  I was diagnosed with invasive ductile cancer, estrogen receptor positive, stage 2, with 3 of the 12 lymph nodes they took out being affected.  I found it really helpful to understand how to read the pathology report.  I was a T2N1MO.  I had chemotherapy known as AC for 4 cycles, 3 weeks apart, over three months.  At first I found the nausea overwhelming because stemitil didn't work for me but my oncologist was able to prescribe something else that worked immediately after chemotherapy.
Toolbox Takeaway:  Keep a Journal
When I was diagnosed with breast cancer, it was very difficult for me because my sister had died of breast cancer twelve years earlier and my first husband had died of a brain tumour two years prior to that.  I made a commitment to myself to live as healthy a life as possible and to continue fulfilling my roles of wife, mother, daughter, sister, friend and Nana to my twelve grandchildren.  I tried to look forward to each new day and gave my fate over to a higher power.
Journaling became my way of coping with all my fears and my anger.  It also enabled me to record all of the love and support that I received from so many sources.  It never occurred to me to keep my cancer a secret and I talked to people about it.  But I still found that putting my feelings down on paper released a huge burden that I was carrying within me.
I started writing the day I went to the family doctor for what was supposed to be a routine physical.  My doctor told me that my mammogram was suspicious.  I made my first entry in my journal that day and I continued to make entries in it for the next five months.  Some days I wrote only a word or two or maybe a few sentences.  Other days I wrote long paragraphs.  I wrote of breaking the news of my mammogram to my husband, my Mom and three adult children.  It was especially hard telling my kids over the phone.  Then I wrote about my appointments with the surgeon, then about my surgeries.  I wrote about wanting to have my daughter with me and about how she did come to be with me during my surgeries.  I wrote about the determination to exercise my arm after the removal of my lymph nodes and of the chemotherapy.  I wrote about my wig, a gift from my Mom.  I wrote about how I put a piece of screening over the shower drain the catch the masses of hair that were falling out in the shower.  And I wrote about what my granddaughter said during a visit to Arizona, when she saw me bald.  She said, "You look just like Daddy."
When I was first diagnosed, I found I was wearing a mask most of the time.  People thought that I was coping very well and was in control of my emotions but deep inside there was a never-ending fear.  I wrote about that fear in my journal.  I also had a serious talk with my husband and told him about my fears, the ones that were there behind my smiling face.  I told him that if my emotions built up I would have to let the tears flow.  When I cried, he would give me a big hug and say, "Tomorrow will be a better day."  It always was.
I lost 25 pounds during my recovery and have since kept it off.  My prosthesis went from a size 7 to a size 5.  My husband and I went on a trip to Costa Rica and I was wearing my prosthesis in a regular bathing suit. A wave swept it out from my suit but I managed to retrieve it before another male friend did.  We laughed about it and I wrote about it in my journal.
I'd never kept a journal before but I used to make notes of things that I wanted to write in my letters to family.  When I was ill, I wrote notes and letters to myself. I filled two books.  Putting things in a journal would help me to identify and deal with a problem.  For example, I learned that I needed to ask to have my blood work done the day before my chemo, rather than being sent home to wait a few days for my blood counts to come up.  I learned that I had to ask questions and to be my own advocate.  I didn't keep a journal before I got sick and I don't keep one now.  It was just something that I had to do at the time and it worked for me.  I find communication very healing.
Click here to see upcoming Healthy Breast Program workshops