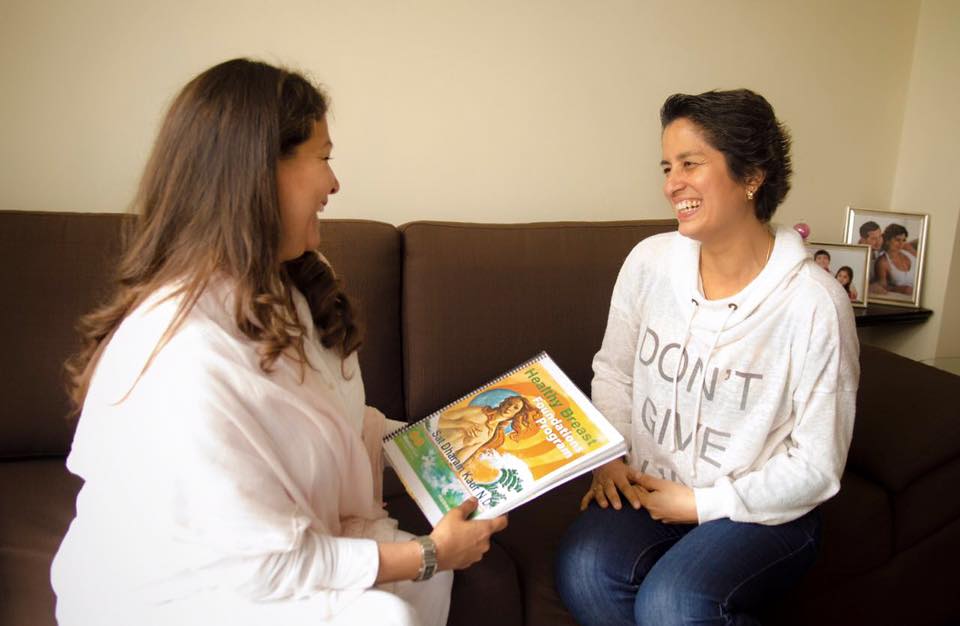 I was diagnosed with ductal carcinoma in the right breast at the age of 54. I had a segmental mastectomy and axillary node dissection. The tumour was a large invasive mass and I had metastatic cancer in my lymph nodes. My cancer was at Stage 3A. I had taken Premarin for many years because I'd had a hysterectomy when I was 38. My oncologist prescribed CAF chemotherapy, the strongest dose that he said he gave. I lost all of my hair and had bad mouth sores. The chemotherapy also caused my thyroid to become overactive. The oncologist checked my heart with scans periodically. I experienced bad intestinal tract irritations and I was very tired. I had chills often and I had to miss treatments occasionally because my hemoglobin and white blood cell counts were so low. I also experienced bad nosebleeds. After chemotherapy, I had 7 weeks of radiation treatments. Following those, I was given Tamoxifen for 5 years and am now on Letrozole.
Toolkit Takeaway: Accept and Give Support
When the pathology report came back and my cancer was determined to be at Stage 3, my oncologist didn't give me a very encouraging prognosis. He told me that it would probably be back in a year or two judging from similar cases he had seen. He said that the cancer most likely would return in the lungs or the brain. I had just lost a dear friend to lung cancer and I had taken her to her treatments. I was scared.
There were some other things happening at that time as well. My husband had been downsized from his job. My mother was 83 and not well. She lived in her own home but was dependent on me for everything. Ultimately, she had to spend her last days in the hospital and when she passed away, I planned the funeral. It was a really upsetting time in our family because one of my two sisters had just been diagnosed with multiple sclerosis, my other sister was going through a nasty divorce, our mother had died and I had cancer.
I wasn't well enough to go back to work after the radiation. Because my husband had lost his job, I wanted to be able to help with our financial situation but, unfortunately, I wasn't able to do that. Also, the year after my treatments stopped, I went for my mammogram and the radiologist found lesions in my other breast. They were micro calcifications and the radiologist said that they should be left. The surgeon, however, referred to my history and scheduled a lumpectomy on his lunch hour a few days later. My family doctor assisted at the surgery and told me that I had been fortunate in having a good surgeon.
I think that I coped with all of my problems because I had so much love and support from my family, friends, co-workers and church family. I joined a breast cancer support group and the other women in the group were great. When I was having surgery and my various treatments, I received over five hundred cards and letters. I keep them in shoeboxes and the other day I thought that the time had come for me to throw them out. I started to read them again and, when I did, I found them so moving that I just put them all back into the boxes. I'll keep them to remind myself of just how kind people can be to someone who is suffering.
I will never forget the many gifts of kindness I received. Just after my surgery, a woman from our church sent over a basket that contained, not just dinner, but a printed menu, a bottle of wine, napkins, tablecloth, etc. She sent absolutely everything for a gourmet dinner for two. She also included a note to me that said she would do this every Thursday evening for the next six weeks. That's just one of the ways that I was overwhelmed with support.
At the same time, I tried to help others. I did what I could. I never stopped doing volunteer work in the community and I volunteered at our church. I kept myself busy because I didn't want to think about my illness all of the time. I was pleased to receive a Volunteer Recognition Award from my city seven years later. It meant so much.
It's been ten years now since my diagnosis and I have been very fortunate in that I have been here to see both my son and daughter married. Now we are blessed with a grandson and granddaughter. They are all the more reason for me to receive and give support.