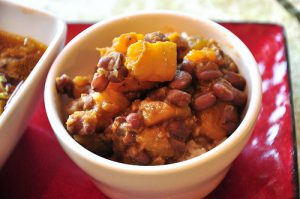 This curry dish is a fantastic source of phytoestrogens (soy), lycopene (tomato), bioflavonoids (peppers), carotenoids (squash), and allyl sulfides (onion, garlic). It is best served over a hearty, fiber-rich grain such as brown wild rice. A delicious exotic and HEALTH PROMOTING meal!
Ingredients
1 tbsp olive oil
2 clv garlic (minced)
3 tsp fresh ginger (minced)
1 tbsp Bragg's liquid aminos
1 tsp mustard seeds
1/2 tsp ground cumin
1/2 tsp turmeric powder
1/2 tsp cayenne pepper
1 tbsp curry powder
1 medium red onion (minced)
1 c firm tofu (crumbled)
2 medium tomatoes (diced)
1 red pepper
2 c butternut squash (peeled, diced)
2 c Adzuki beans (cooked)
Directions
Heat oil in a large saucepan over medium heat. Add the mustard seeds, cumin, turmeric and curry powder and heat for 1 minute.
Add garlic, onion, ginger, cayenne, and tofu, and sauté for 3 minutes.
Add water, tomatoes, squash, red peppers, and beans, simmering on medium heat until squash is tender (20-25 minutes).
Season with Braggs as desired.
Remove from heat and cool for 5 minutes before serving over brown rice.