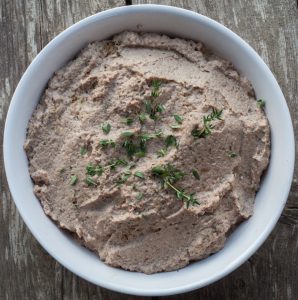 Ingredients
2 cups finely chopped white onion
1 1/2 tablespoons finely chopped garlic
2 cups finely chopped shiitake mushrooms
1/2 teaspoons fresh thyme or 1/4 teaspoons dry thyme
2 1/2 tablespoons olive oil
1 cup toasted almonds, finely ground (or mixture of other nuts and seeds)
2 tablespoons balsamic vinegar
Directions
Sauté the onion, garlic, mushrooms, and thyme in 1/2 tablespoon of the olive oil until the liquids evaporate. Set aside.
In a separate bowl, combine the almonds and the remaining olive oil.
In a food processor, combine the mushroom mixture and the almond mixture until smooth.
Fold in the balsamic vinegar.
Chill and serve with crackers or vegetables, such as zucchini slices, or roasted sweet potato fries.