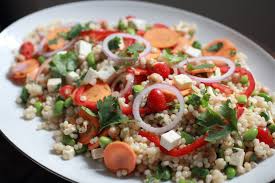 Ingredients
2 T extra virgin olive oil
1 c Couscous
1 Coarse Salt & Pepper
1/2 lb Button Mushrooms (Sliced 1/2 inch thick)
1 bn Small Onion (thinly sliced. greens and whites seperated)
11 c Fresh Corn Kernels
1 cn Black Beans (Rinsed / Drained)
2 T fresh lime juice
1 Jalapeno ((optional) Thinly Sliced)
1 Avacado (Halved, Pitted, Peeled & Sliced)
Directions
In a medium saucepan. heat 1 tablespoon of oil over a medium – high. Add couscous and cook, strring constantly, until golden brown and fragrant. aprox 4 – 4 1/2 mins.. Add 1 1/2 cups water and season with salt, bring to boil. Reduce heat to low, cover, and simmer until liquid is absorbed and and couscous is tender. Aprox 15 mins.
Meanwhile, in a large skillet, heat 2 teaspoons of oil over a medium-high heat. Cook the mushrooms, stirring periodically until golden bron, aprox 4 1/2 to 5 mins. Season mushrooms with salt and pepper; transfer to a large bowl. Add 1 teaspoon of oil to skillet. Cook onion whites and corn stirring occasionally, until onions are soft and corn is browned. Season with salt and pepper then add to mushrooms.
Add couscous, black beans, lime juice, jalapeno (if desired), and onion greens to mushroom mixture, toss to combine. Season to taste with salt and pepper. Divide amongst 4 bowls and top with avocado.