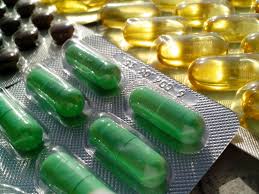 The following regimen will help to decrease the side effects of chemotherapy without compromising its action. Many of these supplements make chemotherapy more effective. Please see the research section for studies discussing the use of antioxidants during chemotherapy.
Vitamin C : 4000-8000 mg.
Vitamin E (natural source mixed tocopherols and tocotrienols): 800 IU.
Vitamin A : 20,000 IU.
B complex containing 100 mg of B6
Vitamin D3 : 5000 IU
Calcium/Magnesium : 1000 mg/500 mg
Zinc picolinate : 50 mg.
Selenium : 200 mcg.
Grape seed extract : 200 mg.
Chromium picolinate : 200 mcg.
Kelp tablets : 1000 mg.
Mekabu Powder Ball: 20 small balls twice daily
CoQ10 : 300-400 mg.
L-glutamine : 1000 mg 4x daily
Fish oil (combination of EPA and DHA): 3000-4000 mg.
Melatonin: 9-20 mg before bed.
Kali phos 6X : 3 pellets 3 x daily
Alkaline powder (30 % potassium bicarbonate, 30 % sodium bicarbonate, 24% calcium carbonate, 16% magnesium carbonate) : ½ tsp twice daily in a little warm water, between meals
Paw Paw : 17 mg of standardized extract from twigs, 3x daily with meals
Herbal Blend: astragalus, codonopsis, ligustrum, millettia, salvia, white atractylodes, royal jelly, lycium. ("Astragalus and Ligustrum" from Golden Flower, distributed by Eastern Currents) 3 tablets 2x daily
Mushroom Blend: shitake, reishi, maitake, coriolus, cordyceps, oyster mushroom.
Do Not Use During Chemotherapy
Beta carotene
Curcumin
Grapefruit
St. John's Wort
Ellagic acid
Indole-3-carbinol
DIM
Cautionary Use
Milk Thistle
Rosemary
Quercetin : 500 mg 2x daily between meals.
Do not use these 5 days before chemo or 1 week after chemo, but do use between these times