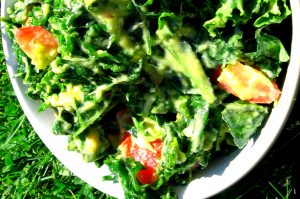 Submitted by Sanjiwan Kaur
Ingredients
bunch organic kale (about 200g), de-stemmed
2-3 ripe organic tomatoes
1 large or 2 small avocados
2-organic cloves garlic, crushed
juice of one organic  lime
1 Tbsp  of organic olive oil
some salt
Directions
Wash the de-stemmed kale thoroughly and dry. Slice the leaves into thin strips and transfer to a large mixing bowl. Add the olive oil, lime juice and some salt. Gently massage them between your hands until they start softening.
Cut the ripe avocados in half and remove the stones. Scrape the contents with a spoon into the kale mix. Add the crushed garlic. Squeeze the avocado between your hands into the mixture so that it becomes a creamy sauce. Wash and chop the tomatoes and add on top of the kale salad.
Serve with mung bean sprouts, alfalfa and clover sprouts and some sauerkraut.