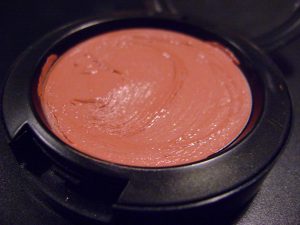 By making your own cosmetics, you control what is put onto and absorbed into your body. Choose simple, organic, non GMO ingredients, free of aluminum, lead, dye, fragrance, sodium laurel sulphate and chemical preservatives such as parabens. Health food stores are a good source, but read labels. Many lovely containers made of glass, ceramic or stainless steel can be recycled or purchased online, for your finished products. Avoid plastic containers, which may contain estrogen mimicking compounds such as phthalates or BPA.
Here are a few recipes to get you started.
Beet Blush
Source: Healthy Breast Program Foundations manual 2016, pg. 154
Ingredients: glycerin, cornstarch beet root powder, baking soda
Directions: Add 50% glycerine (equal parts glycerine and water) to cornstarch in a saucer, to make a thick paste. Slowly add beet root powder until you reach your desired colour. Darken the colour further with a bit of baking soda. Make the paste the same consistency as your brand name product.
NATURAL BRONZER /BLUSH
Source: Wellness Mama
Need to avoid baking soda, or prefer something more customized? Try this:
Base: arrowroot powder
Tint: (experiment with what is best for you) cocoa powder, cinnamon, finely powdered beet root, finely powdered hibiscus flowers, red, pink or gold hued mica powder (for glow)
LIP BALM
Source: Mommypotamus
Makes approximately six .15 ounce tubes [small glass pots would be a toxin-free option]
Ingredients:
2 tablespoons grated, packed cocoa butter
2 tablespoons tightly packed grated beeswax
1 tablespoon plus one teaspoon coconut, olive, sweet almond, or jojoba oil [cold-pressed, food grade]
up to 30 drops essential oil (optional – spearmint, peppermint, sweet orange and tangerine are good options)***
1/8 teaspoon vitamin E, optional (naturally derived vitamin E)
Not all essential oils are recommended for lip balm. Certain ones are phototoxic, while others may cause reactions such as irritation or sensitization. When selecting an essential oil for this recipe, stick with ones that are known to be gentle
Instructions:
In a double boiler (or a stainless steel bowl set inside a pot of boiling water), melt cocoa butter and beeswax.
Add in the olive/almond, or jojoba oil and stir until thoroughly melted.
Remove from heat and – if you are using them – stir in essential oils and vitamin E.
Pour liquid into lip balm tubes or tins and allow to cool. (Tip: Transferring the liquid to a measuring cup with a spout makes pouring much easier.)