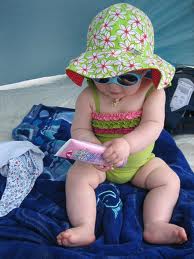 The world of sunscreen is a confusing one. With research indicating sunscreens may be causing more cancer than preventing, along with leading to skin allergies and hormone disruption, what are we to do? Luckily, we have the Environmental Working Group that has compiled a database to dismantle terms like 'nano', 'SPF' and 'broad spectrum', and to provide guidelines on what to look for in a safe sunscreen. The best are broad spectrum with a physical barrier (like zinc or titanium), that don't contain oxybenzone, retinyl palmitate, or nano-particles.
Here's an easy, DIY recipe that meets all these criteria!
Ingredients:
1 Tbsp goji berries
120 ml olive oil
120 ml shea butter
1.5 tsp melted beeswax
1 ml vitamin E
1/3 tsp raspberry seed oil or carrot seed oil
100 ml distilled water
3 Tbsp zinc oxide
2.4 ml borax
Optional essential oils for scent, but avoid citrus oils as they increase sun sensitivity
Infuse olive oil with goji berries for at least 24 hours, then strain with cheesecloth or nut milk bag, setting oil aside. Top up to 120 mL if needed.
Boil distilled water, then set aside.
Melt beeswax in a double boiler. Add shea butter and melt. Add infused olive oil and stir. Remove from heat and add vitamin E and raspberry or carrot seed oil and any essential oils.
In a separate container, mix heated distilled water, zinc and borax and stir well to dissolve. When both oil and water mixtures are similar temperatures, approximately 70 degrees C, you can begin to mix the two together.
Add water mixture a little at a time to the oils, using either a whisk or blender (I find a hand-held immersion blender works great) and stir to turn into a creamy lotion. To ensure ingredients won't separate later, stir or whisk until lotion has cooled to room temperature, (you can speed this up by placing the container into a bowl of cold water). Pour into containers and store in the fridge when not in use, will keep for at least a year, if stored properly.
Safe, simple, effective. Happy Summer to all!