This workshop is a single module, and part of the full program Healthy Breast Foundations + Yoga Program, Toronto, Jan 19 – Nov 30, 2018.
About This Course
The Healthy Breast Program is an intensive learning program to help you live vibrantly, improve breast health, reduce risk of breast cancer and reclaim your health. We focus on natural therapies in conjunction with conventional diagnostic and treatment options. Join us to connect with your joy and learn practical tools to transform your life, including meditation, Kundalini Yoga, diet, nutritional therapies, breast self-massage, exercise, and group support.
The Healthy Breast Program runs from Jan 19, 2018 – Nov 30, 2018, and is taught by Sat Dharam Kaur ND on 12 Friday afternoons from 2-5 pm over 12 months. Each session combines Kundalini Yoga, meditation, and tools for natural breast care, centred around a specific theme.
Course Outline
This is module 2. Please select that module to see information.
The Healthy Breast Foundations and Yoga Program is an In-Person course consisting of 12 modules. You may register for modules separately or take the program as a whole.
Instructors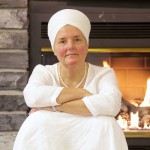 Sat Dharam is a certified Kundalini Yoga teacher trainer and instructor, author, and naturopathic doctor practicing in Owen Sound, Ontario. She has studied Kundalini Yoga with Yogi Bhajan since 1976 and has facilitated teacher training programs in Toronto (ON), Canmore (AB), and New Mexico. She developed the Beyond Addiction program ... more
"Material was massive – covering many topics/areas of interest that were most helpful. From daily nutrition, hormones, nutritional support, detox, all the symptoms to lymphatic drainage was helpful – my concern was lymphatic drainage so I appreciated the helpful presentation." ~ E.F.
Location & Dates
Module 2 Date: Feb 9, 2018
Location: Lotus Yoga Centre, 699 College St., Toronto
Dates: 12 Session Program, Once Monthly, Jan 19, 2018 – Nov 30, 2018
Jan 19, 2018

|

3 Hour Workshop

|

Sat Dharam Kaur ND

Feb 9, 2018

|

3 Hour Workshop

|

Sat Dharam Kaur ND

Mar 9, 2018

|

3 Hour Workshop

|

Sat Dharam Kaur ND

Apr 6, 2018

|

3 Hour Workshop

|

Sat Dharam Kaur ND

May 4, 2018

|

3 Hour Workshop

|

Sat Dharam Kaur ND

Jun 8, 2018

|

3 Hour Workshop

|

Sat Dharam Kaur ND

Jul 6, 2018

|

3 Hour Workshop

|

Sat Dharam Kaur ND

Aug 17, 2018

|

3 Hour Workshop

|

Sat Dharam Kaur ND

Oct 12, 2018

|

3 Hour Workshop

|

Sat Dharam Kaur ND

Nov 9, 2018

|

3 Hour Workshop

|

Sat Dharam Kaur ND

Nov 16, 2018

|

3 Hour Workshop

|

Sat Dharam Kaur ND

Nov 30, 2018

|

3 Hour Workshop

|

Sat Dharam Kaur ND