About This Course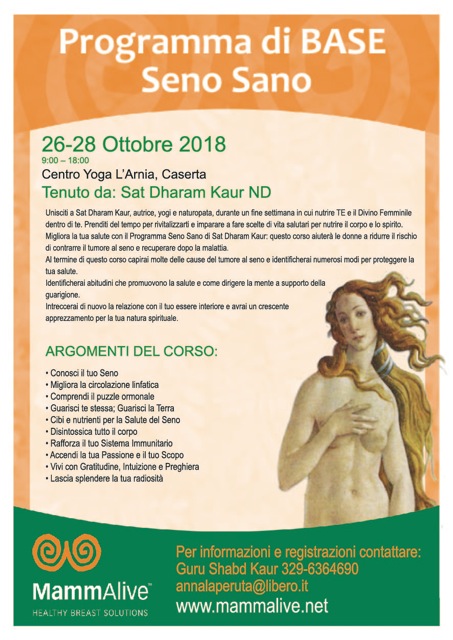 Join Sat Dharam Kaur in beautiful Italy for a weekend away to nurture YOU and the Divine Feminine within.
Take time to revitalize and learn healthy lifestyle choices to nourish a vibrant body and spirit. Balance your hormones, cleanse your body, develop a spiritual practice and reduce your risk of common ailments, including breast disease, thyroid imbalance, PMS, infertility and adrenal fatigue. Every woman (and even men) can benefit from the Healthy Breast Program – it will inform and guide you to make lasting changes in diet and lifestyle that will help sustain you, your family and Mother Earth.
The Healthy Breast Foundations Program is a stand alone program for optimizing health and reducing breast cancer risk. (For men it will also reduce prostate cancer risk). It is the introductory course for the Healthy Breast Program, and is the prerequisite for the Healthy Breast Practitioner's Program and Healthy Breast Yoga Teacher Training Program, which are geared towards licensed health practitioners and anyone interested in yoga applications for breast health, respectively. It consists of 12 modules with Sat Dharam Kaur ND guiding you through the many facets of breast health – hormonal, environmental, dietary, nutritional, psychological and spiritual. Each of the twelve modules includes a home practice program.
Many people who take the program are inspired to become Healthy Breast Educators, and then teach the program to other women to improve their health and help reduce the global incidence of breast cancer. We invite you to join our international community supporting and empowering women and contributing to a healthier planet.
Before or after the weekend workshop, you may also like to explore beautiful Italy.
INFORMAZIONI SU QUESTO CORSO
Unisciti a Sat Dharam Kaur nella bellissima Italia per un fine settimana in cui nutrire TE e il Divino Femminile dentro di te.
Prenditi del tempo in un posto lontano per rivitalizzarti e imparare a fare scelte di vita salutari per nutrire il corpo e lo spirito. Bilancia i tuoi ormoni, purifica il tuo corpo, sviluppa una pratica spirituale e riduci il rischio di disturbi comuni, inclusi malattie del seno, squilibrio della tiroide, sindrome premestruale, infertilità e affaticamento surrenale.
Ogni donna (e uomo) può beneficiare del "Programma per la Salute del Seno" – questo informerà e guiderà l'utente ad apportare cambiamenti duraturi nella dieta e nello stile di vita che aiuteranno a sostenere voi stessi, la vostra famiglia e la Madre Terra.
Il Programma di Base per la Salute del Seno è un programma studiato per ottimizzare la salute e ridurre il rischio di cancro al seno. (Per gli uomini aiuterà a ridurre il rischio di cancro alla prostata). E' questo il corso introduttivo per il  Programma seno sano , ed è propedeutico per il  Programma del praticante del Seno Sano e del Corso di Formazione per Insegnanti del Programma del Seno Sano, studiati rispettivamente per operatori sanitari autorizzati e chiunque sia interessato all'utilizzo dello yoga per la salute del seno. È composto di 12 moduli tenuti da Sat Dharam Kaur ND che guida l'utente attraverso le molteplici sfaccettature della salute del seno – ormonali, ambientali, alimentari, nutrizionali, psicologiche e spirituali. Ciascuno dei dodici moduli include un programma di pratica a casa.
Molte persone che seguono il programma sono ispirate a diventare "Educatrici per la salute del seno", per poi insegnare il programma ad altre donne, migliorare la loro salute e contribuire a ridurre l'incidenza globale di cancro al seno. Vi invitiamo a far parte della nostra comunità internazionale di sostegno ed emancipazione delle donne e a contribuire per avere un pianeta più sano.
Prima o dopo il fine settimana del workshop, si può anche visitare la splendida Italia.
Instructors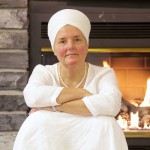 Sat Dharam is a certified Kundalini Yoga teacher trainer and instructor, author, and naturopathic doctor practicing in Owen Sound, Ontario. She has studied Kundalini Yoga with Yogi Bhajan since 1976 and has facilitated teacher training programs in Toronto (ON), Canmore (AB), and New Mexico. She developed the Beyond Addiction program ... more
"Material was massive – covering many topics/areas of interest that were most helpful. From daily nutrition, hormones, nutritional support, detox, all the symptoms to lymphatic drainage was helpful – my concern was lymphatic drainage so I appreciated the helpful presentation." ~ E.F.
Certification
Certification is available to you to become a Healthy Breast Educator after completion of the course and after handing in the written assignments relevant to each of the twelve modules, as well as a video of you teaching one full module to a client or group.
Location & Dates
Location: Centro Yoga L'Arnia, Caserta, Italy
Dates: Oct 26-28, 2018
Pricing
Contact Guru Shabad Kaur at 329 636-4690 or annalaperuta@libera.it for further information
Full course: € 350,00
Register for this Course
Make payment to:
BENEFICIARY:Di Donato-LaPeruta
IBAN:IT71C0301503200000003344374
BIC / SWIFT: UNCRITMM
AMOUNT: € 350,00
CAUSAL: HBFP-CASERTA